Need help placing an order? Call us Toll-Free: 1-888-668-2808.
Save 10% off on your first order with coupon code: FIRST
Satisfaction Guarantee: Every order will receive a 30-day guarantee of up to $1,000 of the purchase price, that you will receive the products you ordered.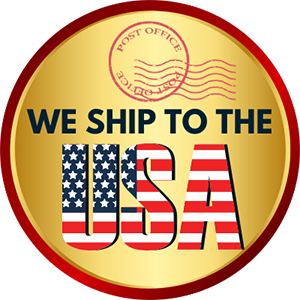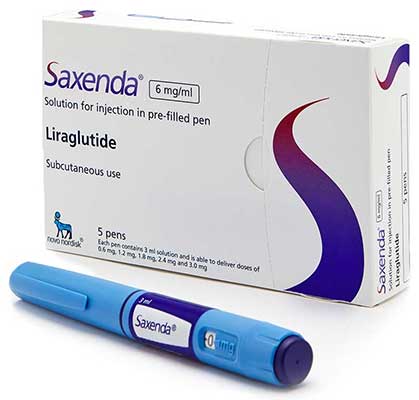 Product Information
What is Saxenda?
It contains Liraglutide a glucagon-like peptide-1 analog made from Saccharomyces cerevisiae through recombinant DNA technology.
Saxenda is a pre-filled pen that contains a clear and colorless aqueous solution manufactured by Novo Nordisk. One pen consists of 18 mg Liraglutide in a 3 mL solution.
What is it used for?
Saxenda is used for patients who are obese, overweight, or who have type 2 diabetes together with exercise and diet.
How does it work?
Saxenda is an Incretin mimetic drug. It binds to GLP-1 receptors and stimulates glucose-dependent insulin release. It suppresses appetite and stops the secretion of glucagon, a hormone that signals the liver to release stored glucose. It also helps the patient to digest food more slowly which will cause the patient to feel full.
How to take it
Saxenda must be a colorless, clear, and particle-free solution that can be taken with or without food. Inject subcutaneously in the thighs, upper arms, or abdomen. Wait for the dose counter of the pen to zero then wait for 6 seconds before the patient removes it from the injection site. Always change the needle every after dose. Rotate the site of administration every other day to reduce the risk of amyloidosis. In case the patient misses a dose, inject the medication as soon as possible. But if the next dose is near, skip the missed dose and continue with the same dosing schedule.
Dosage
The usual starting dose for adults is 0.6 mg once a day. The dose will increase at weekly intervals with the doctor's supervision until the patient reaches 3mg once a day which is the maintenance dose of this drug. Maintaining doses for pediatric patients may range from 2.4 mg to 3 mg per day.
Side Effects
Vomiting, Diarrhea, and Nausea can be experienced by patients taking Saxenda for the first time and when the dose is increasing every week. Swelling and rash in the injection site can also happen but they will subside after continued treatment.
Warnings, Precautions, and Contraindications
Saxenda should be avoided if the patient has a family history of malignant thyroid C-cell carcinoma (MTC). Consult the physician for a change of medication if the patient is planning to get pregnant as Liraglutide may cause weight loss and may harm the fetus. The safety and effectiveness of Saxenda are not well established in patients less than 12 years of age. Do not take Saxenda in combination with any GLP-1 receptor agonist or with diet pills. Alcohol intake can also lower blood glucose levels which may increase the risk of hypoglycemia.
Adverse Effect
A combination of Saxenda and Insulin may result in Hypoglycemia in patients with type 2 diabetes. Acute and Chronic kidney failure can be a result of taking GLP-1 receptor agonist drugs like Liraglutide. Tachycardia may result in palpitations in both adult and pediatric patients. Immunogenicity, Depression, Malaise, Cholecystitis, and delayed gastric emptying should also be observed.
Storage
Keep Saxenda out of reach of children. Unopened Liraglutide pens should be stored in a refrigerator ranging from 2-8°C while opened Saxenda pens can be stored in the refrigerator or at room temperature at 59-86°F (15-30°C) for up to 30 days. Do not freeze and store away from direct heat.
About the Author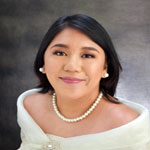 Ida Edlweiss Gumpal is a licensed Pharmacist and medical writer. She took her internships at Mercury Drug Corporation, Inc., a Hospital internship at De Vera Medical Center, Inc., and a Manufacturing internship at Philmed Laboratories, Inc. She has plans on attending medical school with the goal of specializing in Neurosurgery or Cardiothoracic surgery.